Effective Note Taking
Why take notes?
Note-taking is a key academic skill all students need in order to maximize the use of their time and effort when listening to lectures, watching video materials or reading textbooks and articles.  Thus, effective note-taking skills are considered beyond price when it comes to revising for exams, preparing written assignments, avoiding plagiarism and studying more efficiently.
The process of taking notes should actually be thought as making or creating notes, as note-taking should be an active process that helps you think, learn, understand and question whatever you are reading, watching or hearing.
Note-taking should NOT be thought as a passive process of repeating someone else's words, as copying down information does not engage your brain and is not beneficial for your own learning. Instead, note-taking should be considered an active process which happens not only during, but also after class and in which you convert new ideas and concepts in your own words and place them in your long-term memory.
There are some golden principles (Dos and Don'ts) when it comes to taking notes effectively:
How to choose a technique that works for you?
Although several different ways to take notes exist, there is no universal approach that works for everyone and for every class and every assignment. Therefore, the best strategy would be to experiment with a few different approaches to see which ones work best for you and are best for the class and activity you are engaged in - lectures, reading, revising, preparing an assignment, etc.
Some of the most commonly used note-taking methods are presented below:
Cornell note taking method is an excellent way of taking notes during classes and lectures, it can also be used as effectively when reading books, articles, etc. or watching video materials.
How to use?
Divide the sheet of paper into 3 columns – note-taking column, question column and summary column, as shown on the picture. During class, fill in the right column by writing down your notes. After the notes are completed (at the end of the class or immediately after class), read them and in the left column formulate key questions and points. After class, fill in the space at the bottom by summarizing the entire page in your own words.
Examples & Templates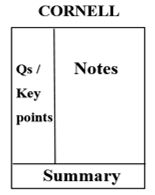 Further instructions for using Cornell method are available HERE.
Ready to use template is available HERE.
The Outline Method is probably the most commonly used note-taking style among students, as it naturally organizes the information in a structured and highly logical manner (hierarchy). This method can be used in all learning environments, when in class, reading or watching video materials, however, it is less effective when used for subjects containing many formulas, graphs and structures (Math, Physics, Biology, etc.).
How to use?
Use bullet points, numbered lists, arrows, etc. and add extra space (indent) to indicate a new thought/point.
The main topics of the lecture, reading, etc. should be placed at the far-left side of the page, subtopics should follow under each category by using an indent to the right. Supporting facts and details are placed below the subtopics, again with another indent to the right, as shown on the picture.
Examples & Templates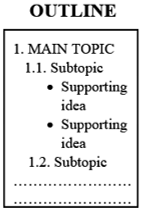 Further instructions for using the Outline method and an example are available HERE.
The Mapping style refers to all types of concept maps, spider diagrams, or mind maps, which help to organize related information in a visual way. Mind maps are thought to mirror the way the brain organizes information; thus they are considered very effective. Mapping is best used for picturing rich course content, as maps reduce large amounts of information and help you see connections and provide overview of key points without adding too many details. Mind maps are also very useful as a visual technique in revision of difficult study material. Another benefit of this note-taking style is that you can easily make links and add additional information anywhere at any given time.
How to use?
Mind maps can be drawn by using small slips of paper, post-it or index cards, or alternatively, there are also many digital applications which draw mind maps with bubbles and links.
Start by selecting your main topic/concept and putting it in the middle. Then, decide on what the best way to categorize the information is, what the elements of the topic or concept are, and what the links between them are. Write each subtopic/element on a separate card/post-it/ bubble and add details wherever needed. Finally, check your work and move the cards/post-it/bubbles until the map is accurate.
Examples & Templates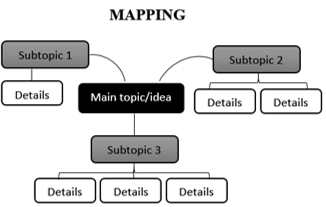 Further instructions how to effectively use the Mapping method in your studies are available HERE.
   Note-taking Software/ Digital Solutions
  Nowadays note-taking is increasingly done using digital means. Many people use simple word processors or text editors to take notes during class on their phones and tablets. To increase your efficiency, consider using some of these free digital solutions for better note-taking:
   Digital Notes / Note-taking Apps
   Free Mind-mapping Software
   References & Further Readings: